There are, in case you haven't noticed from previous posts, LOTS of birds in the Lowcountry.  Which birds changes a bit with the seasons, although there are plenty of year round residents.  The last couple of months have rewarded our watching with a familiar resident, but in a new location. Bald eagles have moved to the pond at the elementary school. October is the beginning of nesting season here, so we were delighted to find they have taken up residence where we can look for them every week.
The pond is prime territory, open flight paths, but plenty of trees for roosting and nesting, and a gator free pond stocked with an abundance of fish.  By next month the eagles should be laying, and by early spring there will be nestlings to captivate the careful observer.
Snipe may be the stuff of stories and campfire pranks, but here they are among our oddball seasonal shore birds.  Wilson's snipe are hard to spot, they are so well suited to the area, but fun to find strolling through a local ditch or in your yard.
After another successful breeding season here in the Lowcountry,  our woodstork population continues to make a comeback from endangered to threatened.  They are ungainly to look at, but amazing in flight or roosting in groups in the trees.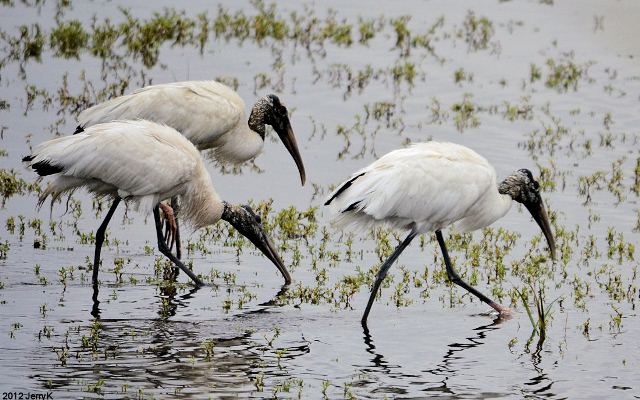 As fall cools into winter, we are thankful for the return of our seasonal birds. Another year of survival, another hope we can reduce climate change and protect these animals for our children and generations to come.
Welcome home.